With the easing of restrictions in most Latin American countries, a large number of airlines have resumed their international connections. Some, such as the Venezuelan company Conviasa, have gone little by little. The good news is that this week they just announced their return to Nicaragua.
According to the company itself in your Twitter, last November 12 he wrote: "REACTIVATION! You can now enjoy our Panama – Managua route with frequencies on Friday and Sunday. Buy your ticket at http://conviasa.aero and on the mobile phone 0414 399 12 45 ".
The return of their flights to Nicaragua will be from December 3. The connection will be from Tocumen Airport with departure at 3:50 in the afternoon, arriving in Managua at 4:20 in the afternoon. The route from Managua to Caracas would be from 6 in the morning to 8:30 am. The cost of the tickets is about 700 dollars.
They clarify from Conviasa that "for international flights to Venezuela, Nicaragua and Russia, the passenger, to board, must present a PCR test with a negative result issued no more than 48 hours before arrival in the country."
FLIGHTS FROM CONVIASA HAVANA-MANAGUA
The reactivation of this connection with Nicaragua from Panama will allow Cuban travelers to make some games through Copa Airlines that already flies daily between Panama and Havana. Perhaps it is still not everything that travelers from the island expected, but it is more than nothing.
Now, when do the direct connections between the "José Martí" and the "Sandino" of Managua return? On the Conviasa website they still do not announce anything about it, in fact they do not even allow tickets to be obtained at a future date on this route.
However, less than a week ago, the airline confirmed at the 2021 Aeronautical Technology Expo held in Venezuela, that it expected to soon resume its connections to Cuba and Ecuador. Although they have already announced that of Nicaragua, it is likely that before the end of November the dates of Conviasa's return to Cuba will be known.
Currently this company has regular flights to the Dominican Republic, Mexico, Panama, Bolivia and Russia. At the end of December 2021, they also announced the re-connection with Madrid, Spain, with three flights a week. He is also studying connecting with Italy and Portugal.
Conviasa also plans to expand its connection operations to Suriname, Peru, Chile and Argentina. It is also evaluating operating an air route to Africa through Nigeria and expanding its operation to the Middle East, with Iran and Qatar.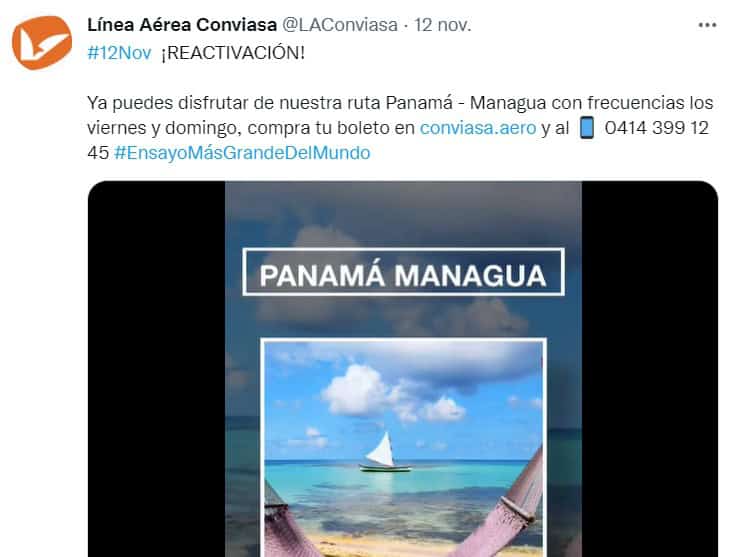 Ad