"The most beautiful doctor of 2023"
Xinhua News Agency, Beijing, August 29 Title: Chinese Foreign Aid Medical Team: Skillful hands and kind hearts water the flower of friendship
Xinhua news agency reporter Xu Penghang
Over the past 60 years, a total of 30,000 members of foreign medical teams have been sent to 76 countries and regions, a total of 290 million patients have received treatment, and more than 2,000 people have received national awards of recipient countries…
Since my country sent the first foreign aid medical team to Algeria in 1963, the Chinese foreign aid medical team has treated the local people with kindness and skill, and has made an important contribution to promoting the building of a community with a common destiny for humanity and society. health and human health and has won wide recognition from the international community.
Give more hope to local patients
One day in May 2022, around 10 pm, Ma Nan, an orthopedic surgeon with the Shanghai Medical Team in Morocco, received a call from the emergency room: a local 10-year-old girl was accidentally injured, and her middle finger and ring finger almost fell off.
Sanitation, fixation of the fracture, restoration of the tendon nerve… The operation lasted almost 2 hours, and two severely pinched fingers of the girl were saved.
"Local people like to seek medical help from Chinese doctors. The technical level is one aspect. The important thing is that Chinese doctors are serious and responsible and treat rich and poor patients equally," said Hu Binglin, leader of the Mohammedia department. unit of the 171st Moroccan Medical Aid Detachment.
Rwanda, Masaka Hospital, came to a patient with a tumor, because of which many doctors "did not dare to operate."
After a 3.5-hour operation by the Chinese medical team, the patient's tumor was successfully separated from the inferior vena cava. Before being discharged from the hospital, the 18-year-old patient excitedly picked up a pen and wrote the following line in Kinyarwanda on the hands of the attending physician: "Chinese doctors, you have given me hope for life."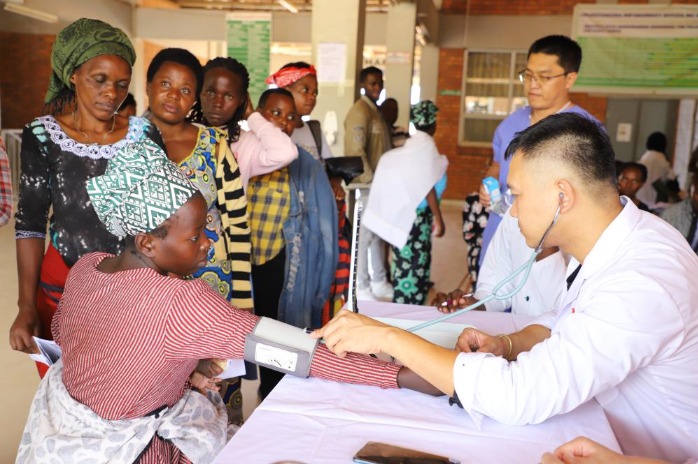 On March 27, 2023, Chinese doctors conducted a medical examination of local residents in Kigali, Rwanda. Published by Xinhua News Agency (photo by Huang Wanqing)
Overcoming the twin challenges of difficult natural conditions and limited medical conditions, the Chinese foreign aid medical team tried its best to treat local patients.
Li Junsheng, head of the surgical department of the Fourth Hospital of Inner Mongolia Autonomous Region, has worked in the Rwanda medical team six times and for almost 10 years. He used homemade abdominal belts to protect the abdomen of postoperative patients and homemade traction for fracture patients. Sometimes there is no pressurized infusion set, so I pressurize the infusion with my own hands.
Xue Jin, a doctor from Hubei Province, joined the Algerian medical team in 1965 and came to Saida, a city in northwestern Algeria. Here is the edge of the Sahara desert, the climate is arid, and the conditions are difficult. In three years of helping Africa, Xue Jin and his colleagues have successfully carried out thousands of field operations.
Nearly 60 years have passed and 86-year-old Xue Jin pulled out his cherished group photo. "This is a patient with cysticercosis, and this one has a volvulus…" Xue Jin still clearly remembers the severe operation the patient underwent and how he recovered.
Leaving behind a "medical team that cannot be taken away"
Over the past 60 years, Chinese foreign aid medical teams have not only saved the lives of local patients, helped improve medical technology in recipient countries, but also trained more than 100,000 medical workers, leaving behind "a medical team that you can't take with you." away".
"The students we helped the country 10 years ago have become the backbone of the business," Li Junsheng has personal experience: "They have introduced the good management concepts and treatment concepts of Chinese doctors into their daily work."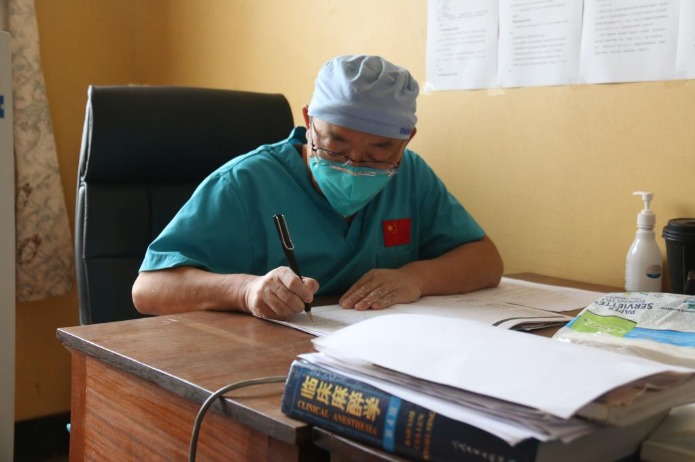 On September 22, 2022, Li Junsheng, a member of the 22nd Chinese Medical Assistance Team bound for Rwanda, compiled medical records for patients at Bingo Hospital in Rwanda's Eastern Province. Published by Xinhua News Agency (photo by Huang Wanqing)
Thanks to the constant modernization of auxiliary medical equipment, the level of hospitals providing care has also improved significantly. "Before, our hematology department could only do urine and fecal blood tests and smear tests for malaria parasites. Now we can do blood chemistry, hormone levels, and immune response tests for malaria parasites. The original black and white version of Ultrasound has also been replaced with color ultrasound," explains Li Junsheng.
He has partnered with 46 hospitals in 41 countries and regions, built 25 key specialized clinical centers and eliminated thousands of technical gaps…
From "blood transfusion" assistance to sustainable "hematopoietic" care, Chinese overseas medical care has gradually formed a system of medical teams, clinical medicine and public health, two-wheel drive, innovative projects, medical supplies, capacity building, personnel and technical exchanges. Round, 3D bloom pattern.
Medical care abroad opens a new chapter
On April 10, 2023, the medical team of Peking University People's Hospital "International Brightness Journey" left Beijing for an 18-day medical event to highlight cataract patients in Uzbekistan and Kyrgyzstan.
"Thank you", "For your work", "Chinese kind doctor"… In Bukhara (Uzbekistan), many patients seriously learned simple Chinese to express their gratitude to Chinese doctors.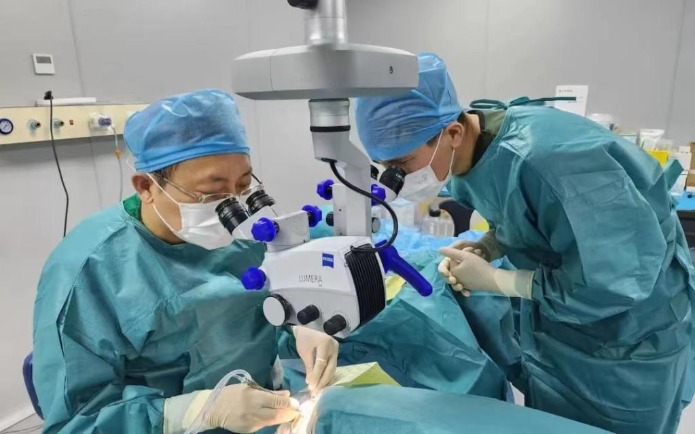 In April 2023, Peking University People's Hospital's International Luminosity Journey medical team performed eye surgery on local patients in Uzbekistan. Peking University People's Hospitalpainting
In September of this year, the medical team of the "International Brightness Journey" will set off again. "The state has borders, but medicine has no borders. We are honored to send hope for health and light to Central Asia and continue the friendship of the ancient Silk Road" – Bao Yongzhen, Head of the Medical Team of Brightness Journey International and Deputy Branch Director ophthalmology at Peking University People's Hospital.
Over the past five years, China's foreign aid medical team has treated nearly 10,000 patients in short-term free clinics such as Bright Journey and Love Journey, according to the National Health and Health Commission, according to the National Health and Health Commission. .
For the first time, medical teams were sent to 6 countries, including the Solomon Islands, almost 50% of the members of the medical teams had the highest professional ranks, more than 50% were young and middle-aged aged 36 to 45 years … In recent years, the number and the quality of Chinese medical teams providing foreign aid continued to improve. The number of complex and high-level operations has increased significantly, and the number of rounds and free consultations has continued to increase.
At present, the Chinese foreign aid medical team is still fighting in more than 110 medical institutions in 56 countries around the world, inheriting the spirit of the Chinese medical team that is not afraid of hardship, dedication, saving lives and healing the wounded, and boundless love, continuing to write the history of medical brigade of Chinese foreign aid.