Perhaps announced two years ago, the iPhone 13 is still one of our favorite reference models designed by the brand. At the moment, the price / quality ratio is improving thanks to the unprecedented Carrefour offer. So it could cost you €679 instead of €909.
It is in September that Apple should announce its iPhone 15 lineup, which, obviously, fans of the Apple brand are looking forward to. The upcoming release of these new smartphones shouldn't stop us from seeing the side of older models that still deserve attention. This is the case, for example, with the iPhone 13, which scored 9/10 during our test and is still number one on our top best iPhones at the moment. This powerful and reliable smartphone is now even more recommended thanks to a €130 discount.
Some highlights of the iPhone 13
6.1 inch OLED screen.
Powerful A15 Bionic chip.
Improved autonomy
The iPhone 13 (128GB Black) launched at €909 and then reduced to €849 is now available for €779 at Carrefour thanks to a promo code. RENT70. Loyalty account holders can get it even cheaper as 100 euros will be credited to their account, allowing the iPhone 13 back to 679 euros.
---
If the offer mentioned in this article becomes unavailable in the future, check out the other iPhone 13 deals below. The table is updated automatically.
Where can I buy

Apple iPhone 13 at the best price?
(Almost) twin iPhone 12
You won't change the winning formula: that may have been Apple's motto when it designed its iPhone 13 two years ago. So the brand has adopted the same rectangular format as the iPhone 12, with rounded edges, brushed aluminum and a tough glass back that radiates quality without a doubt. The smartphone is also IP68 certified, making it dust and water resistant up to 6m for 30 minutes, just like the iPhone 12. However, there have been a few small changes: l iPhone 13 is thus thicker and slightly heavier than the iPhone 12. its predecessor (174g vs. 164g).
As for the iPhone 13 screen, the 6.1-inch panel offers endless contrasts and deep OLED blacks. We still regret the absence of the 120Hz refresh rate that most premium smartphones in this price range offer. Here we are satisfied with the screen refreshing at 60 Hz, which, fortunately, promises a fairly smooth navigation. The Cupertino-based company has also reduced the size of the notch by 20%, which frees up space at the top of the screen, although it does not allow more information to be displayed.
power monster
Apple strives every year to ensure the best performance of these iPhones. Therefore, the iPhone 13 is equipped with the A15 Bionic chip, much more powerful than the previous one. Thus, it is able to cope with even more complex tasks. Sophisticated mobile gaming, watching videos, editing 4K videos in iMovie… The iPhone 13 never wavered during our test. When it comes to autonomy, Apple has made a lot of progress. Thus, the iPhone 13 is able to work without recharging for a whole day, even with fairly intensive use.
Finally, on the photo side, the iPhone 13 integrates two sensors from the iPhone 12 Pro Max: a 12MP ultra-wide camera and a 12MP ultra-wide camera. There is also artificial intelligence to fine-tune the details of the shots taken. It is also very noticeable in photographs of people in motion, which will capture perfectly in place. In general, photos taken with this module will have a good level of detail and brightness, including in the early evening when the sun is setting.
To find out more, read our full Apple iPhone 13 test.
9 /10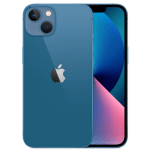 If you want to check out other Apple branded smartphones before you make your choice, we invite you to check out our guide to the best iPhones right now.
---
Some of the links in this article are affiliate links. We will explain everything here.

---
To follow us, we invite you to download our app for Android and iOS. You can read our articles, files and watch our latest YouTube videos.