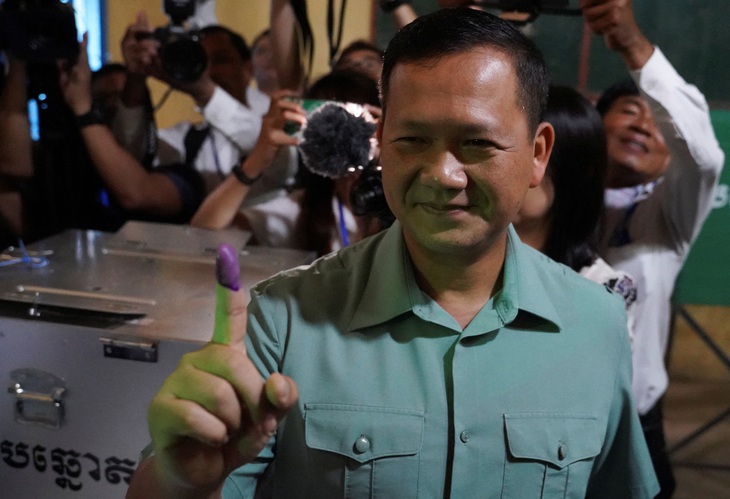 The Cambodian People's Party (CPP) has confidently confirmed that Hun Manet, the son of incumbent Prime Minister Hun Sen, has been elected to Cambodia's National Assembly, Reuters reported on July 24.
"It is clear that Mr. Hun Manet has been elected to the National Assembly," said Sok Eisan, a CPP spokesman.
Thus, Mr. Hun Mane took another step towards taking the place of Prime Minister of Cambodia from his father.
According to the newspaper Khmer times, the CPP also claimed victory in the July 23 elections. Mr. Seok said he thought his party won about 78-80% of the vote.
Mr. Seok told Xinhua, "We absolutely won this election, but we didn't count the exact number of seats won. It really reflects people's trust in the CPP leadership."
meanwhile the newspaper Khmer times Unofficial results show that the CPP won 120/125 seats in the National Assembly. The remaining 5 seats belong to the Royalist Party FUNCINPEC.
Earlier, Chairman of the National Electoral Commission (NEC) Prach Chan confirmed that the seventh elections in Cambodia were successful, ensuring fairness and absence of violence.
Preliminary turnout statistics show that a total of 8.2 million people voted, representing 84.58% of the 9.7 million eligible voters nationwide.
Who is Mr. Hong Mane?
Shortly before the general election in Cambodia, Prime Minister Hun Sen publicly announced that General Hun Manet could become the new prime minister 4-5 weeks after the election.
Mr. Hun Mane graduated from West Point Military Academy and became the first Cambodian to graduate from this prestigious US military academy. He also holds an MA in Economics from New York University and a PhD in Economics from the University of Bristol (UK).
He is currently the Deputy Commander-in-Chief of the Royal Cambodian Armed Forces (RCAF), Commander of the Royal Army.
To become prime minister, Mr. Hong Mane must be a member of the National Assembly and must win the election on July 23rd.