Key facts:
Scaramucci believes that the technical properties of Bitcoin far exceed those of gold.

"At $ 60,000 I think we are still very very early," Scaramucci said of the value of bitcoin.
SkyBrigde Capital founder and former White House communications director Anthony Scaramucci said in an interview on Friday that investors should buy bitcoin (BTC) now, even with the price above $ 60k.
The financial specialist declared to CNBC who is making an effort to explain to his customers "why they need to own bitcoin." In his opinion, it is perfectly feasible that the price of bitcoin reaches USD 500,000 per unit, by mid-2025.
Scaramucci maintained that "in the 60s ($ 60 thousand per BTC), I still think we are very, very early. If Cathy Wood is right and we have a billion wallets by the end of 2024, by mid-2025 these coins (bitcoin) will easily trade at half a million dollars each. '
In this regard, he mentioned that bitcoin is a very rare property, so that, in the long run, it will be increasingly difficult to obtain a full bitcoin. Remember that there is not even enough bitcoin for every millionaire in our society to own a currency. JP Morgan says there are 49 million millionaires in US dollars. So there won't be enough, "Scaramucci stressed.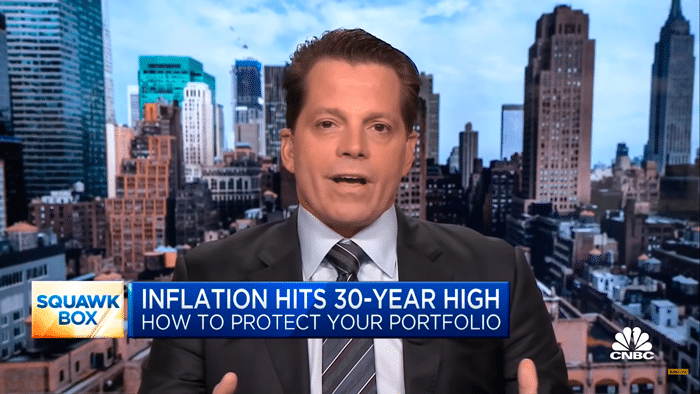 Bitcoin outperforms gold 'infinitely'
When asked for a comparison between Bitcoin and gold, the financial specialist said that the technical properties associated with the cryptocurrency make it "infinitely better than gold". In his opinion, every time a technology with better technical characteristics emerges, the previous one tends to be overshadowed.
"We had the DVDs and we moved to Netflix and the streaming. Satoshi Nakamoto's white paper basically put us in a new era, "said Scaramucci. He also believes that in the future "probably (bitcoin) will be 10 times greater than gold over a long period of time", and that, although at the moment the difference in capitalization between the two assets looks important, eventually, bitcoin will eclipse gold.
On inflation in the United States, Scaramucci believes that there is not much that the FED (Federal Reserve System) can do to reduce the margin at this point. "You can't put the money in the bond market because there is little or no return there, and then the money flows into the fastest growing stocks." This is another of the reasons that the financial analyst refers to advising his clients to acquire a little bit of Bitcoin.