If you ask a few people still active on Facebook what they like about that platform, a common element will cross all the answers: in the face of the hypersaturated and frenetic image of TikTok, the fury of Twitter and the almost self-parodic aesthetic of Instagram, Facebook continues to being a relaxed place to talk with friends. The usual bar, the stretcher table. "From Facebook I appreciate the space to write, the favorable attitude to calm reading and the minor, although not non-existent, virulence," explains Sergio, 42 years old. "Facebook is a peaceful nursing home where we can chat about our things. Sometimes it gets a bit messy, as if the monitor came from aqua aerobics. It's like using a jukebox, smoking a pipe, or riding a stagecoach. Sometimes I think we're missing something, and I like that."
Carlos, 41, appeals to the collective: "Most of my friends have Facebook and consult it, so what I want to share with my surroundings they will see. I have become less exhibitionist of my daily life and, as if I were an artist undergroundI do not aspire for my things to go further". Raquel, 42, believes that "the best thing about Facebook is choosing who I read and when and, above all, that people don't run into me by chance. I have more or less control over those who are here, I judge them and they judge me with a little more context. Instagram saturates me quickly because I am more verbal than visual. I am more interested in the people who analyze than the people who only show". "I am delighted on Facebook with my obsessions of old, without fanfare, a little safe and with that function so pertinent for forgetful people that is that of memories [Facebook ofrece cada día a sus usuarios mensajes o fotografías que compartieron en esa misma fecha en años anteriores] they are like bottles with messages returned to the shore", says Álvaro, 45 years old. "Being here in apocalyptic times is the closest thing (virtually) to being in Claire's house in melancholy".
In other words, Facebook is not for exhibitionism, nor for discussion with strangers, nor for finding out the latest news, nor for discovering new trends. What is it for then? "For the old folks," an 11-year-old boy said in response to an internal company survey, according to documents obtained by the company. The Wall Street Journal and collected in an analysis of New York Times. Those same documents revealed that Facebook has been losing young users in the United States for years (this is not what Facebook shows in the data provided to its investors: the company affirms that with 1,970 million unique users each day, the figure has increased by 1% compared to to the previous year, but their age ranges are not provided).
Nice interface, I stay!
Facebook became a boat from which many have never gotten off, after jumping from one to another for years; it was the definitive settlement of a generation that had grown up while believing in the very concept of a social network. The first experience in this sense for the entire millennial generation was that proto-instagram called Fotolog, then MySpace and finally Facebook, a place that was difficult to understand until everyone signed up: it turned out to be a great party where you can see and be seen, where you can start conversations and share common tastes. Facebook managed to become a giant, so much so that it became the gateway to the internet: a digital cover letter, the place where the media should be to be read and get redirected traffic to their websites. The door of the world. Nothing less.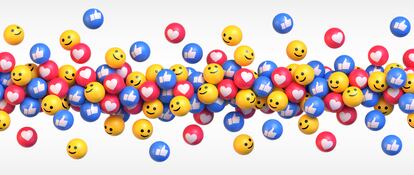 Google tried to compete by creating its own social networks in the image and likeness, first Google Wave and then Google+, both of which have already disappeared (in 2010 and 2018, respectively). Facebook simply became something ubiquitous and familiar enough for the couple of generations that grew up with it to settle there, find a comfortable digital environment and, now in their mid-thirties, show no interest in starting from scratch in platforms like Instagram (which Facebook bought in 2012 for 765 million euros) or TikTok (which Instagram, according to millions of angry users, has been trying to imitate lately with very little dissimulation). Facebook may be a place with an aging population today, but it is a long way from becoming the ghost town that MySpace once was.
"The architecture of Facebook has not changed in two decades," says Geert Lovink, a researcher at the Amsterdam University of Applied Sciences and director and founder of the Institute of Network Cultures, as one of the possible causes of this loyalty of a certain type of public to Mark Zuckerberg's social network. "The idea was, and somehow still is, that of a social network supposedly freefor friends and where others are guests to participate in your wall, such as news media, corporations, advertisers and other subjects recommended". The italics are his.
Lovink shares the feeling of a youth exodus for a few years and points out that the shadow of suspicion that has been cast over Mark Zuckerberg has been decisive in driving people away from Facebook. "There is now a massive awareness of how Facebook works compared to five years ago, and this has skyrocketed among older generations as well. Young people went to Instagram years ago and then to TikTok, but platforms like Signal or Telegram have also worked for them as an alternative to WhatsApp [también propiedad de Facebook tras pagar 13.800 millones de euros en 2014]. At best, young people are forced to occasionally use Facebook as part of their digital identity [para loguearse de forma rápida y sencilla en otras webs y plataformas] or to have contact with certain official worlds, such as family, school or possible jobs. It's the same as your Google accounts, which you need to access YouTube."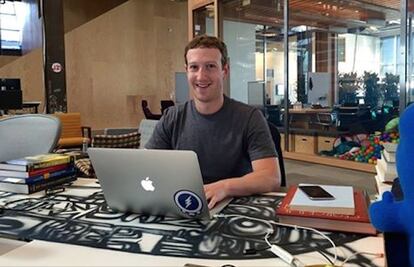 However, Lovink sees an added reason for so many of us to stay on Facebook even if we use it less frequently. "Many don't know how to phase out their presence there. In the past, social networks simply disappeared, as happened with MySpace, Friendster, Orkut, Sonic or Fotolog. But the blocking effect of the current monopoly has made it nearly impossible for billions of users to delete their accounts and just move on." Some have. Joel, a 32-year-old Portuguese photographer, made up his mind after a breakup. "I had tons of photos and a lot of my life shared on Facebook. When I finished that stage I didn't want it to continue there. I could have just stopped logging into Facebook, but I didn't want to leave such a big digital trail."
A life in data
Erasing that trace is not so easy. Joel was forced to find a tutorial to get it right and recalls the process as "confusing". This was in 2020. Currently, in an attempt at transparency and simplicity of the company after several scandals in a row during the Trump term (the fake news, the Russian plot, the Cambridge Analytics case or the suspicions of oligopoly), Facebook offers clearer instructions to its users about their own privacy and also about how to make their profile disappear forever. Of course, it specifies: "We may keep copies of your information for 90 days in the security storage that we use to be able to recover it in the event of a catastrophe, an error of software or other possible events that cause data loss. We may also store your information for certain purposes, such as legal matters, violation of conditions or prevention of damages".
Others think, precisely, of that amount of information and memories dumped on the platform when it comes to not deleting their profile on it. The set of Facebook, Instagram and WhatsApp keeps too many precious memories for some, it is a kind of personal album and life diary that they do not want to stop having. "I would be very sad to lose all that," explains Raquel, 39. "Of course, I enter and participate less than before on Facebook because there are fewer people. The four of us always stayed, but these same ones write less and less, so it is the whiting that bites its tail: I participate less because there are fewer people and I imagine that there are fewer people for the same reason. This is what is known in the business world as the network effect: when the quality and usefulness of a product depends on the number of people who use it. Facebook, as the platform that taught the entire world what user-generated content was (with it we became, for the first time in history, consumers and producers at the same time), is a great example of a product damaged by the network effect. It will attract fewer people if we all stop participating. Traffic metering platform Chartbeat has reported a steady loss of web users redirected from Facebook since 2021.
But in the meantime, the platform is a quiet place and its faithful are very faithful. Its very nature of a stretcher table creates debates that are probably impossible in other networks more given to speed and image that have come to influence literary works. Alberto Mira, professor of film studies at Oxford Brookes University and author of the essay Chronicle of a future (2021), explains: "Facebook works for me as a diary and as a laboratory of ideas. In my last books, which had a personal element, I liked to put it to the test and the truth is that it has helped me refine my ideas. Certainly the introduction to Chronicle of a future It wouldn't have been the same if people hadn't told me 'well, I don't see it that way' and hadn't forced me to explain myself in another way". Those interactions would likely have been a simple insult on Twitter, a brief reaction video on TikTok, and an impersonal heart on Instagram. On Facebook people still talk, argue and change their minds. In the middle of 2022 that is more radical than any dance.
You can follow ICON at Facebook, Twitter, Instagramor subscribe here to the newsletter.