"The licensed company is called Partners Branka. Previously, it could not be called a bank because it could be a licensed legal entity. Only now we can rename the company to a bank. We planned to do this based on the CNB notification two weeks ago, but the CNB with the license was faster," Partners group spokeswoman Tereza Pichalova explained to iDNES.cz, adding that the general meeting would change the name of the company to a bank at the end of the month. .
Petr Borkovets, founder of the Partners group, commented on the confusion of two words that differ by one letter. "Now we can rename it to a bank. The general meeting will take place at the end of the month. Although there is a temptation to leave it as Partners Branka and, of course, use the brand of the bank," he exaggeratedly writes on the mentioned social network.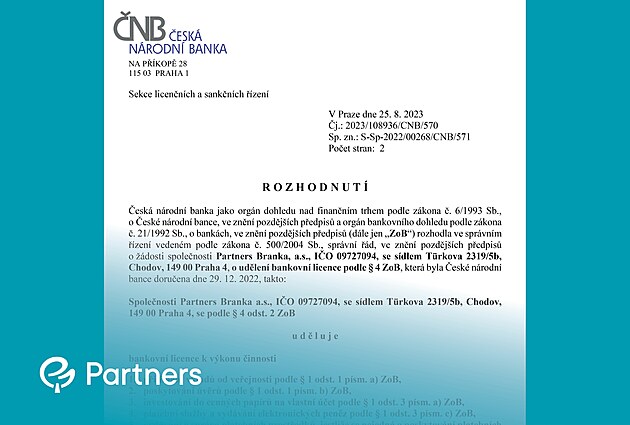 Banking license issued by the CNB to Partners B(r)ance.
The fact that the Partners group received a banking license called Partners Branca was pointed out on the X social network by a member of the National Economic Council under the government, Dominik Strukal. "Purpose. "Partners Banka received a banking license as Partners Branka, because a company cannot be called a bank if it does not have a license," the report says.
The editors of iDNES.cz reported on Monday that the Partners group received a license for their bank and that a new organization will enter the Czech banking market. The financial group plans to launch the long-awaited project in the first quarter of 2024.
The bank will be 100% in the hands of Czech owners, which include about a thousand consultants, managers, directors and employees of the Partners group. From third parties, the companies Pale Fire Capital, Reflex Capital and Tomáš Čupr invested in the project, which together own 18.5 percent. The company's co-founders Radim Lukes and Petr Borkovec, as well as others from Partners, own the remaining 81.5 percent.