Key facts:
The volume of money that Bitcoin moves will exceed Mastercard and Visa in 5 years, according to Blockdata.

Bitcoin processed around $ 489 billion per quarter in 2021.
Blockdata, a company that provides blockchain advice to businesses and governments, stated that the Bitcoin network already moves more money than PayPal. And it estimates that its volume will exceed Mastercard and Visa in five years.
Although Blockdata warns that they are networks that do not work for the same, it explains that it decided to compare the volume of money that each one handles to measure the magnitude of Bitcoin.
In the report it published on the subject, it specifies that the Bitcoin network processed around USD 489 billion per quarter in 2021. In this way, it surpasses PayPal which made around USD 302 billion.
Nevertheless, Bitcoin should still grow 260% more to catch up with Mastercard and 540% to overtake Visa. Although he maintains that these goals will be achieved soon considering what has grown in such a short time. Each of these two networks processed around USD 1.8 trillion and USD 3.2 trillion per quarter in 2021.
It is impressive how Bitcoin, as a 12-year-old decentralized network, is 27% of the way in terms of a metric (volume processed) compared to Mastercard, a company founded in 1966.

Blockdata, advisory agency on blockchain.
Bitcoin, unlike Visa, Mastercard, and PayPal, is not held by a single company. It works through nodes of people and companies around the world. For this reason, it is considered a decentralized blockchain.
3 Paths That Would Make Bitcoin Overtake Visa
Blockdata warns that there are three possible paths that would see Bitcoin overtake Visa, the largest financial network on the market. This scenario would occur if the price of the cryptocurrency grows by 540%, the volume of money transferred in transactions or the number of operations.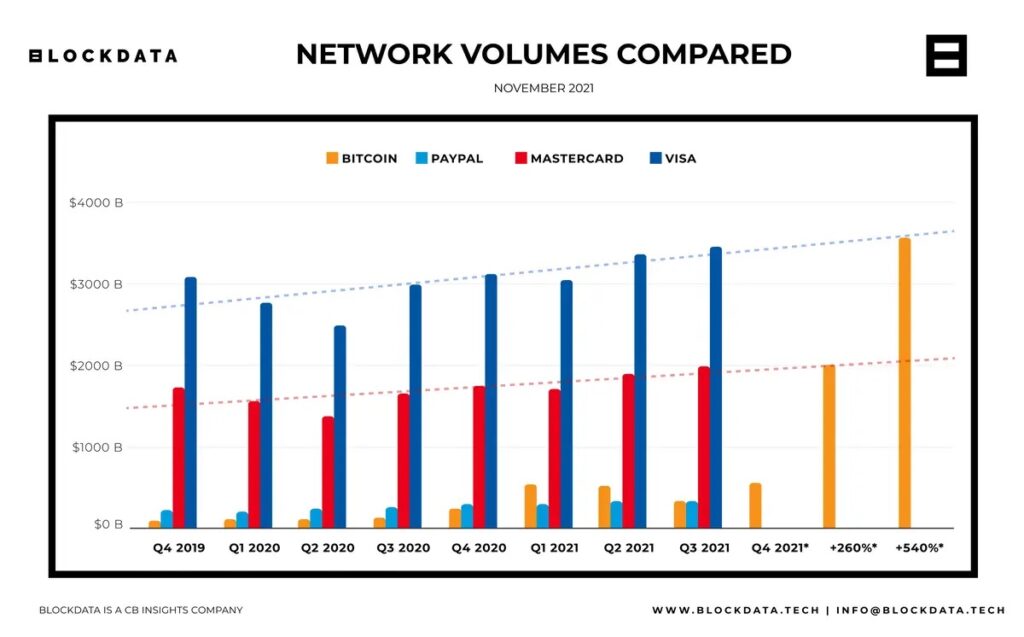 Only taking into account the annual historical value of the cryptocurrency, the network would achieve this goal in 2060. Although it warns that it will probably be earlier. If every year the price of bitcoin rises as much as in 2021, then the network will overtake Visa in 2026. Right now, 1 BTC is trading at $ 57,749, according to CryptoNews calculator.
Blockdata maintains that it is a matter of time before the volume of money that Bitcoin moves reaches that of the Visa and Mastercard networks. Therefore, he believes that at some point a solution must be created in the second layer of the blockchain so that it can solve more transactions than now. As CriptoNoticias reported, something similar predicts analyst Gael Sánchez Smith.