Key facts:
Glassnode predicts that Bitcoin's hash rate will hit another ATH before the year is out.

According to the firm, the mining industry charges almost the highest level in history for its services.
Despite the fact that bitcoin (BTC) has hit all-time highs (ATH) in recent weeks, one of these very close to $ 70,000, most investors in the first cryptocurrency do not sell and keep holding. their holdings.
This is suggested by the most recent analysis by the Glassnode firm, which establishes that many investors are "happy" to hodl their bitcoins. To them, it is nothing more than a sign that market enthusiasts aspire for the price of BTC to stay higher.
The company points out that the typical behavior of experienced investors when BTC prices rise is to start selling, but they have barely spent 0.73% of the supply of coins in circulation.
"This spending behavior has even slowed down the Long Term Hodler Net Position (LTH) change metric, which has been in an accumulation period since April this year. The accumulation rate of LTH reached more than 400,000 BTC per month for around 5 months until the end of September, and now it has returned to a neutral level ", they expose.
This indicates, according to Glassnode, that during the last 30 days, the supply of LTH is flat on the network, "and an equivalent volume of coins is maturing to the LTH state as they are spent outside of it."
In fact, and as a consequence of the continuous outflows of foreign exchange, 12.9% of the circulating supply of bitcoin is trading on exchanges, even as the pioneer cryptocurrency is trading at prices below all-time highs.
Meanwhile, the rate of new digital wallet addresses that send or receive BTC, according to Glassnode, has grown "significantly", but that does not mean that many people or companies have debuted in the market.
According to the firm, the creation of new entities – groups of addresses in control of a single person or institution – has barely exceeded the rate that is generally seen in bear markets.
It is possible that this responds to users are setting up wallets to keep their bitcoins in interest-bearing accounts; or that hedge funds that are already present in the ecosystem are raising money for other new strategies.
"This price observation near ATHs, while on-chain activity is near bear market lows is quite a notable divergence. It speaks of a compelling case where the market is likely still in the quiet build-up phase, marked by low activity, large outflows and very modest strategic spending by experienced holders. "

Glassnode, cryptocurrency market analysis firm.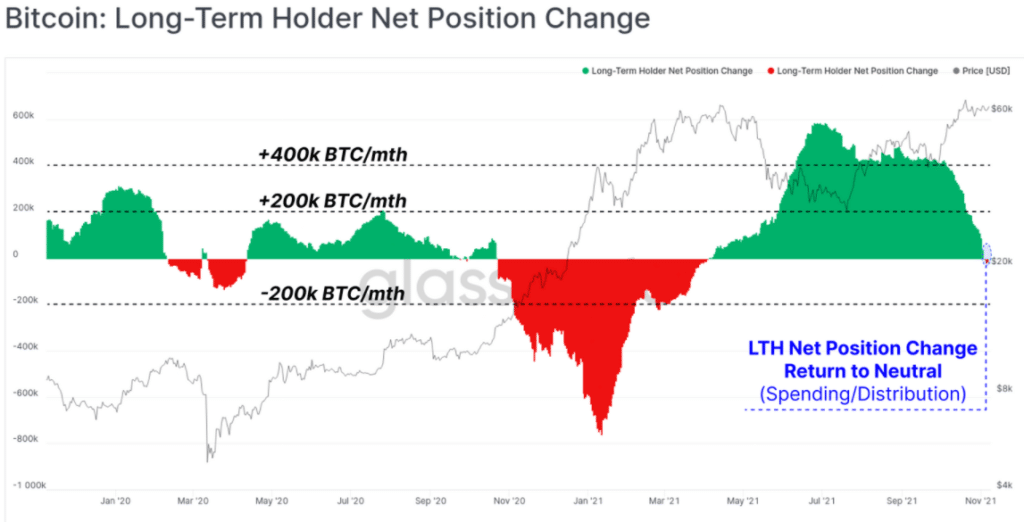 Bitcoin hash rate to hit ATH before year-end, according to Glassnode
Glassnode also talked about Bitcoin mining. Recognizing his recovery of up to 95% after the Chinese onslaught against the industry, he pounced to predict a new all-time high in mining capacity, or hash rate, before the end of the year.
"The mining industry continues to recover after the extraordinary event that 52% of the hash power grid went offline, almost overnight. Given the current recovery trend, the mining market hash rate could reach new ATHs before the end of 2021 ", they explain.
They also point out that, as is known, BTC-denominated miners' income drops dramatically every four years, since the block subsidy component "is programmatically reduced by half." It is worth clarifying that, with the transaction fees included, the current total income of the miners fluctuates between 900 and 1,000 BTC per day.
However, they specify that while miners' revenues are denominated in BTC, their incurred hardware, logistics, energy and financing costs are denominated in fiat money. Those profits, precisely, are large, so much so that for Glassnode, "the mining industry is paid almost at the highest level in history for its services."
"Since the halving event in May, total revenue in USD increased more than 550%, from USD 9.3 million per day to more than USD 60 million. In fact, daily revenues are almost at all-time highs, with only 5% less than the peak of USD 67 million per day established in May, "they indicate.
In short, with the Bitcoin hash rate almost fully recovered from the blow delivered by the Chinese government, miners' revenues in USD are approaching a new all-time high and 93% of the security budget and incentive system "seem be working exceptionally well ".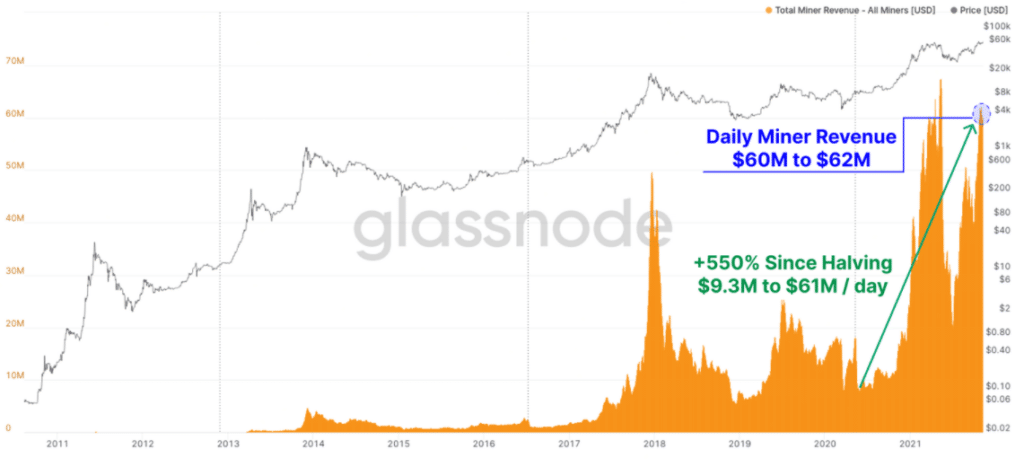 ATH forecasts on bitcoin price
What Glassnode says makes sense if you take into account the Estimates of analysts who see bitcoin with an average price of $ 98,000 before the end of November.
Historically, mining capacity is related to currency appreciation, as it implies more confidence in the network, which translates into more security for investors.
The famous analyst Plan B predicts a jump of + 60% for the first cryptocurrencyRelying on their Stock-to-Flow (S2F) prediction model, we reported in past days.
Although not all of his followers believe in his data, others show more confidence. In fact, months earlier, Plan B forecast a price of $ 135,000 for bitcoin in December.
While it sounds utopian, given that he still has more than $ 60,000 to overcome before reaching that goal, there are those who have faith: Its predictive model, curiously, has worked, according to this newspaper.
The S2F model is based on the theory that bitcoin is a store of value like gold or silver that maintains its value over the long term due to its relative scarcity. So, under this principle, Plan B correlates the stock or quantity of assets currently available, with the flow or quantity of bitcoins mined annually, and based on it projects where the price of the cryptocurrency can go.
Today, BTC has an average price of $ 64,500, according to the CriptoNoticias calculator. We will have to wait and see if the forecasts are fulfilled. For now, the market continues to expand and bitcoin, of course, growing.