Director Greta Gerwig made history as Barbie recorded a $377 million worldwide release weekend, the best opening ever for a film directed by a woman, according to The Guardian, according to News.ro.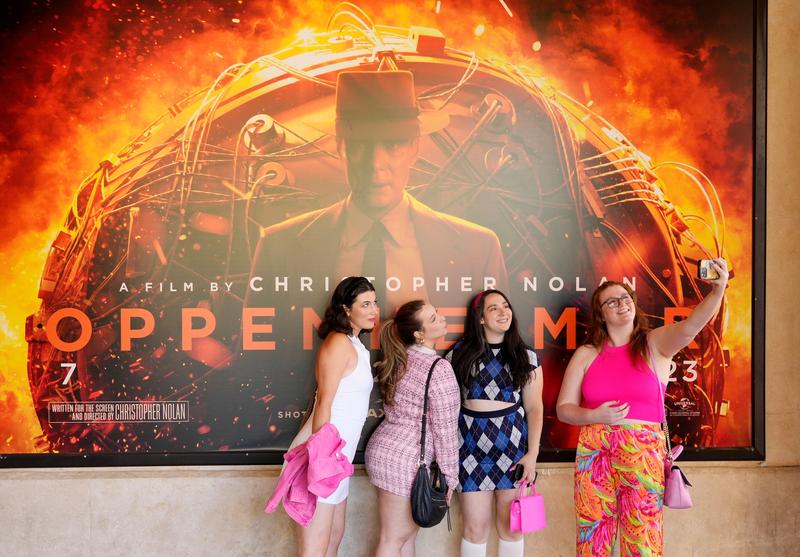 Barbie fans in front of Oppenheimer's posterPhoto: Chris Pizzello / AP / Profimedia
At the box office in North America – the US and Canada – Barbie topped the box office with a whopping $155 million in 4,243 locations, surpassing The Super Mario Bros Movie and all Marvel films released this year, making it the best release of the year.
Oppenheimer's film is weaker than Barbie at the box office
The social media merger of Gerwig's Barbie and Christopher Nolan's Oppenheimer called "Barbenheimer" brought moviegoers back to theaters in record numbers to see both films as double screenings.
Oppenheimer also exceeded expectations, grossed $80.5 million from 3,610 theaters in the United States and Canada, making it Nolan's best debut outside of Batman and one of the best R-rated biographical drama releases.
This is also the first time a film debut has exceeded $100 million, with another film debuting for over $80 million in the same weekend.
Barbie grossed $182 million internationally. from 69 territories, generating a $337 million global weekend while Oppenheimer received $93.7 million out of 78 territories, even surpassing Barbie in India for a total of $174.2 million.
Barbenheimer hurt ticket sales for Mission: Impossible: Death Wages Part I, which dropped 64% after a good weekend and good reviews.