The most expensive model of Apple's upcoming series of smartphones, the iPhone 15 Pro Max, could be in high demand, which will bring more profit to the American manufacturer.
Apple is very optimistic about the demand for the top model of the iPhone 15 series. According to Chinese analyst Ming-Chi Kuo, the company believes that the iPhone 15 Pro Max share will reach 35-40% of total sales. upcoming series.
According to this internal estimate, Apple will ship 10% to 20% more iPhone 15 Pro Max models than last year with the iPhone 14.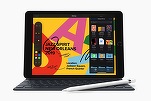 READ ALSO Apple is preparing the first major update for the iPad Pro
To create demand for the iPhone 15 Pro Max, it will come with more exclusive features than ever before in the previous Pro Max series.
Of all the exclusive features, Apple seems to be betting the most on the new periscope lens camera. It will offer 5x or 6x optical zoom compared to the 3x that current models offer.
There are only a few weeks left before the official presentation of the new iPhone 15 series, with some sources pushing the presentation date to September 12th.