Bergamo
Epic Bergamo compared to the standard epic Genoa differs by the use of compact Zen 4c cores (instead of Zen 4), so that a third more (96 → 128) can fit in the processor package. In addition, the Zen 4c cores offer better power efficiency. Thus, these processors are suitable for cloud solutions, typically for most highly parallel workloads and power-to-watt systems.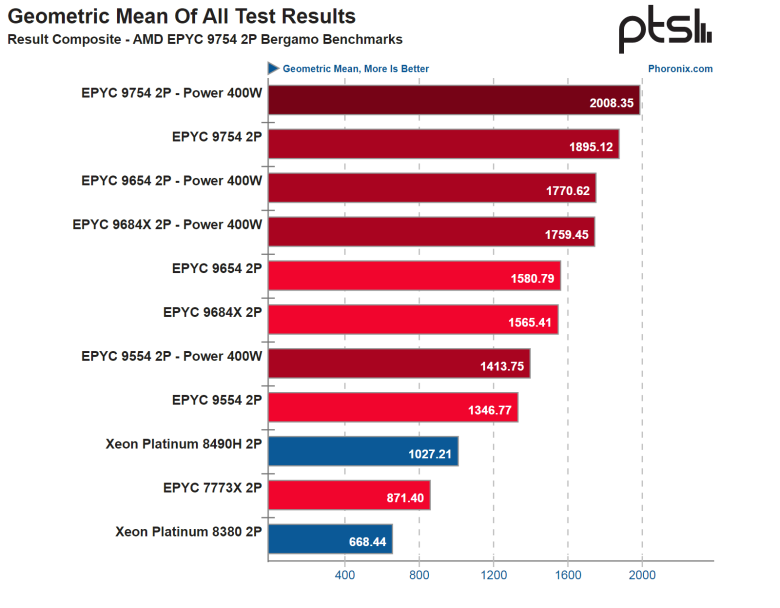 The diagram shows the top model of the series Bergamo represented by the Epyc 9754 processor (128 Zen 4c cores, 256 threads, base frequency 2.25 GHz, boosting all cores 3.1 GHz, L3 cache 256 MB, TDP 360 W, upgradable to 400 W). Compared to standard Epyc Genoa (9654) reaches Bergamo 20% higher performance. In 400W mode, it outperforms Epyc. Bergamo existing 360W Epyc Genoa by 27% (why this comparison is appropriate will become clear from the next paragraph). Compared to the latest competitor solution, Xeons Sapphire Thresholds (8490H), epic Bergamo 84.5% faster at base TDP and 95.5% faster at higher TDP.
In benchmarks, the EPYC 9754 2P averaged 385W… For comparison, the EPYC 9654 2P averaged 447W and the EPYC 9684X 2P averaged 464W. And it's worth noting that the 60-core Xeon Platinum 8490H averaged 568W even higher. The consumption results of the EPYC 9754 exceeded my expectations as I honestly did not expect the Zen 4C to provide such an improvement in energy efficiency and at the same time be so powerful.
— Phoronix
Despite setting the same TDP Bergamo much less consumption than Genoatherefore, to compare performance with comparable consumption, it is more appropriate to compare the results of Epyc Bergamo in default configuration with Epyc Genoa with TDP 400W.
Genoa-X
Epic Genoa-X on the same chipsets as Epyc Genoa; however, the processor chipsets are equipped with V-cache, i.e. layered with 64 MB of L3 cache each. This creates (combined with the built-in 32 MB L3) a total of 96 MB L3 cache per chiplet, which with 12 chiplets in the package means 1152 MB L3 cache per socket. Epic Genoa-X it is designed for workloads that require large amounts of data to be processed. The performance gain (compared to the version without V-cache) can be highly dependent on the specific application. If it is limited more by processing power than by the amount of data being processed, the performance gain may not be apparent or be minimal.
Genoa-X comes out 10.3% more powerful than Genoain 400W mode, the difference between the two processors is 14.3%.
Closest competitor for Epyc Genoa-X this is Intel Xeon Sapphire Thresholds HBM (Max 9480), which is equipped with 64 GB HBM (sometimes the claimed 128 GB then refers to the total capacity of a two-socket/two-socket solution). Phoronics found that in Sapphire Thresholds HBM usually gives better performance if only HBM is used as RAM (the processor also allows HBM to be used as a cache for standard DDR5), but the HBM capacity is not enough for some applications. Genoa-X (400 W) opposite Sapphire Thresholds HBM in HBM Only mode is 85% more powerful. Compared to a configuration where HBMs are used as cache and the processor can also use standard DDR5 memory, this Genoa-X (400 W) 2.5 times (148.5%) faster.