The Health Department reported this Tuesday a death associated with COVID-19, bringing the total in this line to 3,258 since the pandemic began in March 2020.
According to official data from the agency, the deceased person is a 78-year-old woman and their place of origin is "outside of Puerto Rico". Salud indicated that the female did not reside on the island. The death occurred on November 14. She was vaccinated against the virus and had pre-existing conditions. No further details were offered.
October closed with 71 deaths, and September with 268. August remains the deadliest month of the disease so far this year, with 313 victims, but the period with the record number is still December 2020, with 445.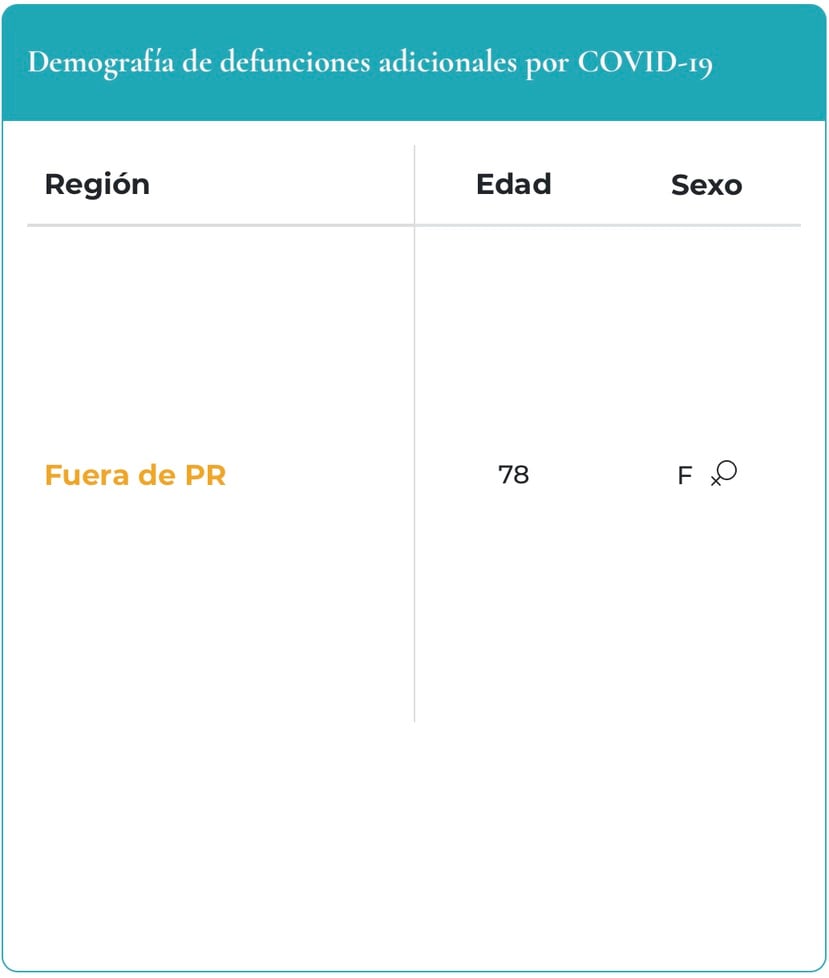 So far in November, Health has registered 15 deaths from the disease.
On the other hand, the number of hospitalized fell to 49, which means two fewer patients in the past 24 hours. These are divided into 47 adults and two pediatric patients.
Among the adults, seven are in an Intensive Care Unit (ICU) and four are connected to a ventilator. A minor is in intensive care.
Meanwhile, the positivity rate stood at 2.71, based on a seven-day period. Yesterday, Monday, this data amounted to 3.15. By October 31, it was at 1.88.
The daily average of confirmed positive cases is 69, with 153,016 accumulated; while the average in probable cases is 34, with 33,603 positives. These include results from samples taken from October 30 to November 13.
In Puerto Rico, 2,565,650 eligible people from the age of 12 have been vaccinated with at least one dose. Of these, 2,326,418 have completed the dose series. 90.1% of the eligible population 12 years of age and older have received at least one dose.
This Sunday the change in the schedule of the update of the statistics in the COVID-19 Data BioPortal, which is now at noon.
Health announced the change last Friday, which "will allow real-time updates, and will offer greater dynamism and flexibility" to show the most recent data on the fight against the pandemic.