Have you ever finished a game and got everything ready for a sequel that never came? Is it possible that they even explicitly promised you that second installment that would end in limbo? You are not alone. Over the years, developers have seen their plans to continue a saga fade, forming that club of sequels that we dropped, but were never officially announced to finally end up abandoned. Of course, they are not all, so do not hesitate to add yours in the comments. Obviously, while we'll try to be as low-key as possible, be prepared for a list of gutted endings.
Darksiders
We start with a trick one. Darksiders had a sequel (two, in fact), but neither continues with the ending of the original. Vigil Games wanted to make a four-player co-op game from the start, but the studio's lack of console experience led them to focus on a single-player adventure. Cooperative mode was finally going to arrive with Darksiders II, just as he announced the end with his mythical No. just no, but it was discarded again.
The Conduit 2
This is one of the endings that you will surely remember if you played it back in the day. Although history manages to justify it, seeing those robotic presidents of the united states of the portal was a premise that, of course, left us wanting to know what would have happened in the logical third installment. We assume that the sales weren't good enough for Sega to justify it.
Banjo-Tooie
Surely many of you will remember the explicit mention of Banjo-Threeie at the end of Banjo-Tooie. What our innocent minds did not know is that this sequel was actually an inside joke from Rare, in which they invented names that they considered absurd of games that they were not going to launch. Another example of this is the hypothetical sequel to Snake Rattle n Roll, Snakes in space, that they promise at the end of that one.
The Order: 1886
You don't have to see the end. Just playing The Order: 1886 We realize that there is a world designed to expand through other installments and even other forms of entertainment. Without going into too much detail, that black screen with which the adventure ends abruptly makes it clear that there was a second part planned which, unfortunately, doesn't seem like we're going to play.
Bulletstorm
People Can Fly showed us that it was possible to make a shooter different when everyone seemed to want to do the same shooter. Despite your crazy proposal, Bulletstorm managed to create a universe with memorable characters at least while we played, and after the credits some lines of dialogue made it very clear that two of the characters who had died during the adventure will return in the sequel that we never play.
Days gone
Days gone It is a title with a very worked history, sometimes spoiled by the late decision to eliminate the decisions with which it was originally designed and mix the consequences of these decisions that we can no longer make. In any case, it seems certain that the secret ending was going to be inevitable, with a mutated virus that prepared the sequel for even more dangerous rivals. It is already official that there will be no second part, so Deacon will be trapped in his world and in our memories.
Beyond Good & Evil
Many gamers have been asking for a sequel to Beyond & Evil and they don't do it without reason. The first part, in addition to being a very charming game and a unique proposal at the time, leaves the door open for a sequel, since it seems that Peyj is infected with the DomZ spore. Although there is a new installment in development, it does not seem that it will be the sequel that we expect, but a new experience to the game as a service that takes place in the same universe.
Chrono Cross
Recently, we keep hearing rumors of a possible remastering of Chrono Cross, the Square classic, which left us, perhaps, the most explicit forgotten sequels on this list. Explicitly, one of the dialogs in the game talking to characters representing the developers tells us that we are awaiting its arrival on PlayStation 2.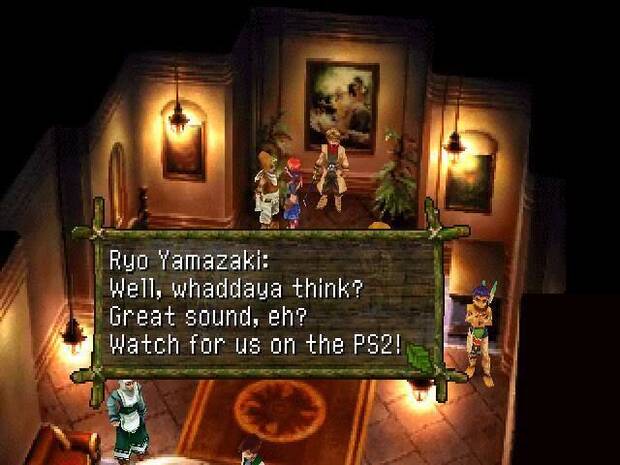 Vagrant Story
Without going into too much detail, this is a rather ironic ending, since precisely the story of the tramp that gives the title its name begins just as the game ends. In a way, this sequel didn't go away completely, and Yasumi Matsuno, writer of Vagrant Story, I brought back the ideas I had for this sequel for a series of missions of Final Fantasys XIV. It's not the same, but we can at least start that story 20 years later.
Dante's Inferno
Looking back, it's curious how there was a time when hack & slash they were so popular that even Sonic had one. Electronic Arts obviously did not miss the opportunity, and launched, together with Visceral Games Dantes Inferno one of those titles that still today has many followers who are waiting for a sequel. And rightly so. The first and only delivery ends leaving us at the gates of Heaven (and a second part, with a continue) that to date has not materialized. Perhaps, now that EA is back to betting on some single player games and with the success of God of war, there is still hope.